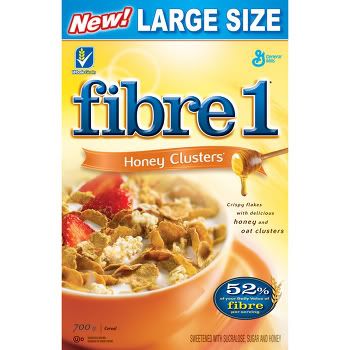 I've mentioned many times, in the past, about how this year I was more determined than ever to start eating healthier, exercising more and getting back on the track to better health. I have to admit, that for the past few month, my healthy habits have fallen to the way side. With birthdays left and right, holidays and now Easter, making the right food choices hasn't always been easy. One thing I do find easy though, is starting the day off right, with a healthy and delicious breakfast.
Fibre 1 Honey Clusters
, makes eating a healthy breakfast a snap. These slightly sweet flakes, paired with delicious honey clusters, brown sugar, and toasted oats, make it hard to believe that they are good for you. The best part? You get over 50% of your recommended daily fibre intake in one bowl!!! Pair it with some fresh berries or a banana, and this power house breakfast has everything you need, to start your day off right.
The folks at General Mills Fibre 1 would like to help you make your healthy start. They have generously agreed to give one lucky winner a Fibre 1 Healthy Start Giveaway prize pack valued at $50. The prize pack will include
one box of Fiber 1 Honey Clusters Cereal
a royal blue Yoga Mat
a 3.5ft blue resistance band with a grip
a GoFit Speed Jump Rope
All you need to do is share your tips for getting a healthy start, for a chance to win.
**As a bonus there is a special $1 Off Fibre 1 Honey Clusters
coupon
, exclusively for Hun...What's for Dinner readers.
Contests period is April 6 through April 30, 2012 and is open to Canadian residents only. Please note readers can enter across multiple blogs but only win once.
"Disclosure: I am part of the Life Made Delicious Blogger program and I receive special perks as part of my affiliation with this group. The opinions on this blog are my own."